Retour à la liste des candidats
Présidentielle 2022 : Sonia Krimi
Visiter le site de Sonia Krimi, ( Programme 2022 / Projet / Vision politique )

Voter pour Sonia Krimi

Partager :
( Lien de vote direct pour soutenir Sonia Krimi par mail et sur les réseaux sociaux )

Soutenir Sonia Krimi sur Twitter :





Statistiques des votes de soutien pour Sonia Krimi sur les 30 derniers jours :

Il y a un mois


0


0


0


0


0


0


0


0


0


0


0


0


0


0


0


0


0


0


0


0


0


0


0


0


0


0


0


0


0


0


0

Aujourd'hui



Je trouve ce site utile pour la démocratie, je fais un don !
Donner avec Paypal

Aider Sonia Krimi à se présenter
Pour permettre à Sonia Krimi de se présenter à l'élection préssidentielle de 2022, sa candiature doit recueillir les fameuses "500 signatures". Ces signatures sont en réalité des formulaires de présentation d'un candidat que les élus locaux renvoient au Conseil Constitutionnel. Il est très difficile pour les candidats de réunir 500 soutien lors qu'ils sont peu connus, ou se présentent hors des principaux partis. Si vous pensez que le programme de Sonia Krimi mérite d'être proposé aux français lors de l'élection présidentielle, prenez rendez-vous avec le maire de votre commune pour lui expliquer pourquoi il doit apporter son soutien à Sonia Krimi, envoyez ensuite cette page à vos amis et sur les réseaux sociaux. Cela peut vraiment aider plus de candidats pour se présenter et ainsi contribuer au débat démocratique.

Pour avoir une idée plus précise, voici ce à quoi ressemble le formulaire que doivent remplir les élus pour soutenir Sonia Krimi :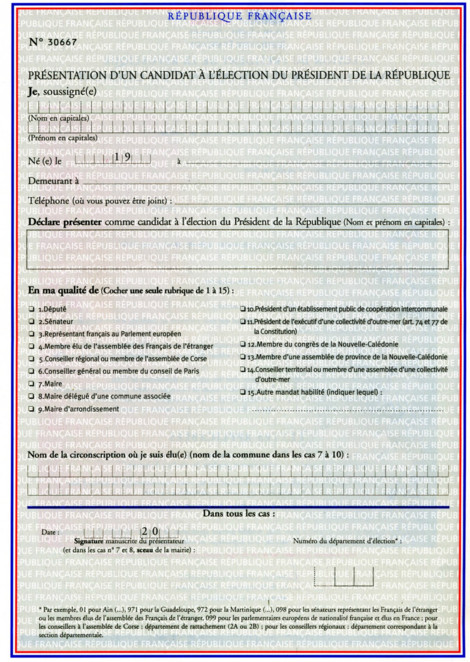 Dernières informations sur Sonia Krimi (source Twitter, "à prendre avec des pincettes") :


.@yannlepetit tu l'as fait ! Merci @SVLH_VP19 ! Village préféré des français en 2019 @leCotentin @MancheCD50 @RegionNormandie @France3tv @bernstephanepic.twitter.com/b26SRs8AHc

Sosooooo tu es la plus belle

Avec @Sonia_Krimi , Saint-Vaast-La-Hougue ne peut qu'être le #VillagePreféré des Français ! @bernstephane @villageprefere @Normaunds #normandie @SVLH_VP19pic.twitter.com/MciCUI0bw6

Et si le #VillagePréféré des Français était Saint-Vaast-la-Hougue @SVLH_VP19 dans notre beau #Cotentin? Ici au village, on croise tous les doigts pour passer les derniers dans l'émission de @bernstephane ! @villageprefere @France3tvpic.twitter.com/bVmmV1olaL

@Sonia_Krimi @RepPittenger @KseniaSvetlova #Ladies https://twitter.com/wtwfinance/status/1143924987889442817 …



Si les armées américaines et britanniques furent en première ligne, nous devons notre liberté à l'ensemble des forces alliées contre le régime Nazi. Le rôle de la Résistance départementale et de l'union soviétique furent déterminants pour la libération de @CherbourgEnCotpic.twitter.com/9BQlb3LBfR

Mevlüt çavuşoğlu, Fransız parlamenter Sonia Krimi'ye haddini bildirdi! https://www.youtube.com/attribution_link?a=qPU1mc5eAYg&u=%2Fwatch%3Fv%3DCxt9U1BEfvw%26feature%3Dshare …

@Sonia_Krimi

À Cherbourg, Sonia Krimi leurs fait même laver le linge par une blanchisserie toutes les semaines, linge qui leurs a été offert. Sans compter les smartphones derniers cris qu'on leurs file pour appeler au bled. Donc avec forfait. Tout ça, est-ce que c'est compté ?

Propos pitoyables.

On appelle cela "des gens qui ne sont rien"@ThillAgnes @Sonia_Krimi (qui a retweeté)

En même temps, c'est un turc...

Well Said brother !

Learn Your mistakes & history then speak !

pic.twitter.com/toxjOz7Iti

French Democracy and Their respect for Human Right Eh!pic.twitter.com/7IW3Mn2D5B

France is like the Ugly women looking at the mirror thinking she is a gorgeous princes ! - 2009 : Deportation 10s of 1000s of Roma migrants from france, 1994 : Rwandan Genocide, 1945: 200,000+ Algerian civilians killed by French , & in 1572 , 1830, 1816, 1764-1767, 1757, 1622,

I Am a Canadian originally from Iraq, When i fled Iraq as a refugee i witnessed all the action of the Kurdish terrorist groups that are heavily supported by France ! Do you call that Democracy ? you are basically the Mother of the Terrorism in the region .

If you think your democracy is not perfect then why dont you go and Deal with your own mess ? France is Raciest country and you know that because you are from Tunisia and you were called names before you became a puppet !